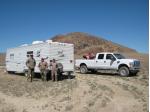 Kyle Hensley (TheRouge)
I have purchased three Ford F350 trucks and one Ford Mustang from Dave at Doherty Ford in the last 10 years. I contact Dave, tell him what I want, and he finds it. He gives me a straight up price, and we move forward. He's been very honest with trade-in value and whether it really makes sense to do something. Doherty Ford even went to bat for me with Ford corporate when I had recurring issues with one of the trucks, and things turned out well.
I highly recommend Dave and Doherty Ford for any vehicle purchases; it will be a fair and painless process.
---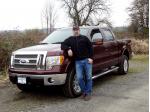 Larry Kennebeck (Larry the Lurker)
Hello fellow I-fishers and Lurkers,
I had been thinking about getting a new truck for a while now, however dragging things out because I didn't want to deal with the sales pitch routines. I starting looking around and just couldn't quite get comfortable with the information I was hearing. I then remembered Doherty Ford due to this infamous website. I called Dave last Monday and talked with him about trucks, and then of course fishing. Through the week Dave and Dwight sent me info on some trucks, and we talked some more. I felt that these guys were the real thing, so last Saturday I went out to Doherty and met with D&D. We discussed some options, test drove some trucks, and talked about fishing. It was like hanging with some old friends. We narrowed my choice down to a couple of trucks and Dwight found one that was available.I couldn't stay to close the deal, so I returned Sunday. D&D were back in action answering questions, securing the truck I decided on, and closing the deal. The truck was delivered Monday, prepped on Tuesday and D&D stayed late last night to go over all the bells and whistles on my new 2010 F-150 Supercrew Lariat. The entire process of meeting and dealing with D&D was first rate. I have a couple of new friends in Forest Grove. When you are in the market for a new vehicle get ahold of these guys!!
Thanks guys!
---
Phill H (IDWITHHELD)
I have seen previous threads from ifisher's and their glowing experiences with Dave (Mr.Kitch'nPass)  from Doherty Ford in Forest Grove. I promised myself I would look into this when our next vehicle purchase came up. That time came up sooner than expected.

I can tell you from first hand experience it is all true. Dave and his team were fantastic!  They:
 
Listened to our needs and recognized our constraints
Provided multiple strategies for us to evaluate
Offered creative solution
Were patient with us throughout the process
Now this is the way car buying is supposed to be!!!

Now, If only they sold boats!
---